It's Comment Love at FTLOB - hurray!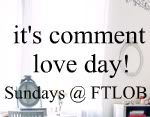 I've decided today is Scrunchie Sunday, a day to give a shout out to my favourite things from back in the day.
When I was 13, I started keeping a "Personal Profile", which details your likes and dislikes, as well as general pet peeves and favourite experiences. The first one had two columns, called Fave and Least Fave, and categories ranging from hobbies (going to the mall) to animals (cats are the best!).
Here are some highlights from my annual Personal Profiles:
1993 - I wanna shoop, baby:
http://www.youtube.com/watch?v=4vaN01VLYSQ
. But there's not even breathing room between passion and pain:
http://www.youtube.com/watch?v=qfNmyxV2Ncw
More 1993 - Too cool to smile: Here I am at Christmas in my Chicago Bulls jersey, high ponytail, red lipstick and still rocking the scrunchie.
1994 - My husband and I begin our 16-year relationship - he's driving a Mazda MX6 and looking hot in his backwards baseball cap. In the words of the Impressive Clergyman, it's wuv, twue wuv.
1995 - Favourite activity: "SOCIALIZING!!" And smelling good while doing it in my Revlon Fire and Ice perfume.
April 1996 - At the top of the page, I've written in giant letters: "DOWN WITH POLITICAL CORRECTNESS!!!" Geez, loosen up. And what's with the excessive capitalization?
July 1996 - "I gotta go, Julia. We got cows!" I discovered The Bell Jar by Sylvia Plath, a must read for anyone who's been impacted by depression. J. and I also saw Twister in the theatre three times.
1997 - I started working at McDonalds, at which point I discovered the incredible stupidity of the general public and the creepiness of older men. Being told you have "nice headlights" by a 40-year old man while covered in lard (seriously - that's what's in the deep fryer) - just another day on the job for a teenage girl!
1998 - Under pet peeves, I've written "Having to be polite to people when I'd like to punch them in the head". Haha! That hasn't changed. 'Cause I'm just a girl and I've had it up to here:
http://www.youtube.com/watch?v=PHzOOQfhPFg
1999 - "Step into my office. Why? Cuz you're fucking fired!" This movie still makes me laugh until my stomach hurts.
2000 - I'm afraid my style took a slight turn to the hoochie, but I wasn't alone. If you got it, flaunt it was the motto for this year's fashion.
The profiles continue, but I'll talk about 2001-2011 another time. What were your favourite things in the '90s?