Today I'm off work - hurray!! A little blogging, ice cream, shopping with sis, lying in the sun, napping...it's going to be a great day! I'm kicking it off with some linky questions from
Mamarazzi
,
Janette
,
Seriously Shawn
and
Impulsive Addict
: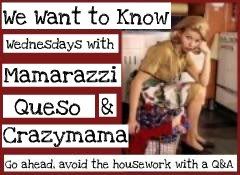 1) Everyone seems to have a quirky family situation - what is something unique about your family dynamic?
I have an awkward relationship with my family, so this question makes me sad. I've often felt like my family not only doesn't love me, but doesn't like me much either. It's gotten a lot better in recent years, but I've also come to terms with the fact that my family is never going to be warm and affectionate, or take a particular interest in me. An example is when I told a family member I had started this blog and really enjoyed it, and gave them the URL to check it out. The response was "Well, I don't communicate that way, so I'm not going to look at it. If you want to tell me something, you'll have to call me." The level of selfishness is hard to deal with at times, but it's not going to change, so que sera, sera.
2) What is the most stressful aspect to blogging?
This
. I read a lot of blogs, and don't want blogs that don't interest me clogging up my reader because I felt guilted into following someone. It's obnoxious to say "I like your blog, so you'd better like me too." Commenting is one of my favourite parts of blogging, but I don't leave a comment unless I have something to say (which isn't usually a problem haha!). I hate feeling pressured in these areas and like I'm being a bad blogging citizen if I refuse to play along.
3) Name your top three non-blog websites you flock to daily.
Fertility Friend to update my temperature chart - I've found this website really handy for keeping track of prime baby-making season. A great group of ladies to chat with through your pregnancy as well.

The weather forecast, because we Canadians are obsessed like that.
The rest of my online time is spent here in the blogosphere!
4) What's your sign? Believe in it or not, does any part of it ring true to you?
My sign's description of my personality is freakishly accurate. Really, it's kind of creepy.
5) Ice cream!! Ice cream!! We all scream for ice cream...name your favourite brand.
Baskin Robbins regularly torments me by bringing out amazing flavours and then snatching them away, never to return. I still mourn for X-Mint and Dirt'n'Worms. My current favourite flavour is Candy Cane Chocolate Fudge Crackle. Since it's only out at Christmas, I feel compelled to scarf down as much of it as possible while it's available, leading to some nice winter ass padding every year.