I'm fortunate to have a job I really enjoy. Not a passion by any means, but since I wasn't born into Hiltonesque luxury and have to work for a living, accounting has been a pretty good career choice for me.
There's always a thorn on the rose though, and mine is my office next-door neighbour. She started out as my boss and became a peer when I was promoted two years ago. When she was my boss, her whiplash moods, lying, micromanaging and criticism of every aspect of her employees' existence (right down to how they laughed) used to enrage me to the point that I'd have to go sit in my car to calm down. If her boss gave her a hard time about why something wasn't done, she'd blame it on her own team, another department, the plant in the corner, anyone and anything but her.
The problem was that I really liked the company and the job itself, particularly if I could advance into some interesting areas within Finance. Miraculously, a promotion opportunity appeared and I was so excited when I was selected as the successful candidate. Crazy coworker was thrilled as well and even gave me a big hug.
Overall things have gone really well in the 18 months since then, aside from this woman driving me nuts on a daily basis. She regularly tries to dump work on me that she doesn't want to do (say for example, welcoming and providing orientation for half a day to HER new hire), and attempts to get me to do her legwork for various projects while she takes all the credit. In case you think I'm exaggerating her aggressiveness, at the beginning of a meeting I called, she actually physically pushed herself in front of me and held up her hand for me to stop talking (I was two sentences into the introduction), while she began running her mouth.
wtf you stupid bitch!
are we at the office or playing rugby?
Her direct leader is onto her bullshit and not a big fan since she tried to steal his job while he was on secondment for a few months. So now she ignores her boss most of the time and sucks up to his boss instead. When I was younger I used to hope this kind of behaviour would catch up with her, but now I know better. No doubt she'll be promoted any day now, and if I end up reporting to her again I'll be dusting off the old resume, because round two just ain't working for me.
In my previous job, I worked with a guy who would listen to loud, bass-thumping techno music in his office every day, before he got bored around 3:00 and took off. In the summer I guess his suit was just too much to handle, because the instant he stepped out of the building (which was a public institution on a busy main road), he would...wait for it...remove his clothes!! I am not kidding. There he'd be, strolling down the main drive toward the parking lot with nothing on but his suit pants and his Timbaland boots (that's another story).
Believe me, I can sympathize (see
my thoughts on nudity
), but really. Good Lord, at the very very least wait until you're in your car to start flashing large sections of skin. And by the way, this was not an attractive sight. Eventually the HR director had to inform him that the organization's dress code in fact extended throughout the property, not just while he was sitting (uselessly) in his office.
my favourite Dilbert strip ever
So what about you? Misery loves company - tell me your crazy coworker stories!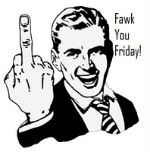 The Fawk You Friday linky is
here
for those who want to share other tales of woe.