Computers don't play well with me*. I'm a frequent flyer at my company's IT helpdesk, which has a second level of support they'll send you to, but only if the new graduates manning the helpdesk can't figure out the problem after an hour or so of walking you through rebooting your computer. I wanted to ask them to give me an express pass to the real experts, but my lobbying to bypass the rookies was crippled by an embarrassing incident.
Early one morning, I turned on my computer and it burst into flame. Just kidding (although I did burn up a laptop once by accident). As soon as the computer booted up, it began emitting a steady piercing shriek not unlike a car alarm. Frantically hitting buttons and jiggling cords, I called the IT helpdesk and shouted for help over the high-pitched drone. After establishing that the computer was in fact plugged in, the helpdesk sent me to the second level. Meanwhile, my co-workers arriving for the day tried to help me diagnose the problem.
Just as the second level tech gods arrived, one of the admin assistants figured it out. "Your wristpad is resting on the keyboard," she pointed out, and lifted it off. The shrieking stopped, my face turned red, and the second level group departed with smug mutterings about user error. So now I have to serve my 60 minute time with the helpdesk phone lines before the second level will deign to address my problem.
It's usually worth their while to stop by though. On several occasions, I've ended up in the corner of my office while excited techies gather around my computer, saying things like, "But the logic isn't supposed to work like that," and "I've never seen anything like this before," and "Let's get a screenshot of this, baby!" Meanwhile, all I can think about is the extra hours I'm going to have to work that night to make up for yet another demonic possession of my computer.
Given this track record, I don't know why I'm surprised that the cyber-devil has sunk its claws into my leisure activities. Ever since I moved my blog to a new address and set up a new Google profile, I've been unable to comment on blogs with a registered user setting. I read and comment a lot, and it's maddening to read a great post and be unable to tell the author how much I enjoyed it, or be blocked from joining an interesting discussion in the comment thread. Google and Blogger have of course ignored my plaintive requests for help.
Then my own blog's comment system (Intense Debate) randomly stopped working, wiping out comments as it went. After being ignored (again) by Intense Debate's support team, I finally uninstalled it today, which meant losing one of the best post comment threads I've ever had, along with the rest of the last month's comments. Just as I'd stopped swearing and was telling myself to be thankful it was only a month, not a year, I got a tweet from one of my favourite new finds,
Christie at The Outlaw Mama
:
"I want to follow you but twitter won't let me. Says forbidden."
Someone get me a priest. I need an IT exorcism.
*And look - I took a test to prove it! Wait. Does this test mean I'm the problem??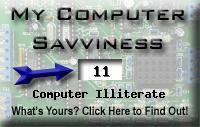 Compared to those in the same age group as you:

97
% scored higher (more computer geeky),
1
% scored the same, and
2
% scored lower (less geeky).
What does this mean? Your computer geekiness is:

Definitely not a computer geek. You probably don't even know what a computer is. Say it with me: COM-PU-TER.