And the linkyfest continues with Friday Letters! Link up here: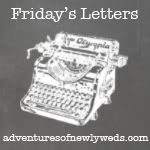 Dear cause awareness marketing people...
Surely there was some way to support medical research without making our men look like skeezy 70's porn stars or Borat for an entire month. Surely.
Dear local grocery stores...
Where the hell is my Indiana Kettlecorn sweet and salty popcorn?? First
you took away my Doritos
, then my cod sticks, now the popcorn? I want it back RIGHT NOW. Orville Redenbacher's version doesn't cut it.
Dear nature...
Thank you for a beautiful, crisp fall day. It's been awfully dreary and it was wonderful to see sunshine for once.
Dear NaBloPoMo...
You have no idea how stubborn I can be. I WILL beat you. I'm halfway there already!
Dear zumba...
I love you. I'm so glad I can do you again.
this is not me, but it is my favourite zumba song right now
Dear digital camera...
I know I dissed you
but I didn't mean for you to start randomly opening and dropping out your memory card in revenge. I just want to take a clear picture of my baby's smile as soon as I press the button, not 20 seconds later when he's staring out the window. Why do you hate me?
Dear Deo perfume candy...
Edible deodorant
? WTF? Is there really a market for this?
Dear
grandfather who took the baby-in-oven photo as a joke
...
I know you thought this was wildly clever and I usually have an irreverent sense of humour, but this just isn't funny. Because horrible stuff like this does happen in real life, and there's nothing funny about that at all.
Dear fellow bloggers...
I'm sorry in advance if I don't return your comment. I can't comment on blogs that don't allow a name/URL login option (ie that are set to "registered user" in Blogger) and despite hours of troubleshooting and fervent prayers to the Google/Blogger tech support gods,
the shunning continues
.
Dear Fifty Shades casting director...
Please, please do not fuck this up. Ian Somerhalder or Matt Bomer as Christian. Alexis Bledel or Lily Collins as Anastasia. Done. And on that delicious note, I'm going to bed.
Ian Somerhalder Matt Bomer
Alexis Bledel Lily Collins