Kate at
Can I Get Another Bottle of Whine
has started a fun new linky where she gives us the beginning of a sentence and we have to finish it. This week's sentence was "One of the most embarrassing things I ever did was...". There were so many contenders for the end of this sentence that my brain temporarily crashed trying to process them all at once. If you don't believe me, just check out some of my posts under the "Seinfeld experiences" label. You'll notice there are a lot of them.
Since I'm an incredibly clumsy and weird person, I rarely get embarrassed anymore. However, in 2011 I had a mortifying experience that broke through my thick skin. I posted about it at the time, so if you've already seen this...well, just read it again. I bet you'll still laugh. And cringe.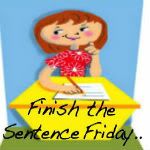 Here's "The Cashier's Nightmare," originally posted June 28, 2011:
I'm not easily embarrassed, but this morning was a bit much even for me. Tomorrow is Sass's first birthday and in a strange lapse from my normal extreme planner ways, I do not have every detail finalized. Specifically, I've invited the guests and that's it. In a fit of excitement (panic) this morning, I suddenly realized that 1) lots of people are coming over tomorrow and 2) lots of stuff needs to get done. Fortunately I'm on vacation this week, so I have time to get this party back on track.
After my Body Attack class this morning (woo hoo!! Exercising
during the day
- what a luxury!), I sauntered over to the party planning superstore next door to the gym. Yeah, I was soaked with sweat, but I didn't plan to be in there for more than 15 minutes, tops. HA!! After wandering in a daze through the first two aisles, I should have realized I was in over my head, but instead I went up to the front and got a shopping cart since my basket was already full.
An hour later, I wrestled my overflowing cart up to the cash register. As I watched the plates, cups, banners, party favours, candles, icing tips, bubble-blowing machine, hats, streamers, tablecloths, serving trays, napkins, etc. beep across the counter, I began to suspect the party might be a
teensy
bit more expensive than I'd originally planned. It might be closer to $150-$200 than I'd like. But then again, it is her first birthday, I told myself. "Whew!" the cashier sighed as she loaded the last item into a bag. "That'll be $378.21."
As my mind gibbered in speechless horror, my hands followed their well-known route and inserted my credit card chip into the machine, punched in my PIN and tucked my card back into my wallet. As the cashier began to hand me my bags, my fiscal self-preservation instinct finally kicked in. "Um. I'm really sorry, but I need to return some of this," I mumbled. "I was expecting it to be $150, not $400."
The next hour (!) was rather mortifying. The store was unable to just void the transaction and the poor cashier had to individually
re-scan
every.single.item. And when she got to the end, it didn't balance (being an accountant, I could feel her pain). Several other people got involved, and when the refund total was finally balanced to the original total, the cashier hit "Enter" with a sigh of relief. The store had been empty when I got there, but there were now 10 people in line behind me and I could feel their furious beady little eyes poking into the back of my sweaty neck. Thank God this was almost over.
Except it wasn't. The cash register informed the cashier it was unable to process the refund. More people joined the team trying to get me out of the store with credit rating intact. Eventually a refund expert at another store was called, and we discovered that the cash register would only process refunds up to $200 at a time. The entire refund transaction had to be voided, and the cashier had to re-scan the items for the THIRD time!! At one point I was tempted to just tell them to forget about refunding everything, but I kept imagining my husband's face when I explained I'd somehow spent $400 on paper plates and other random items for Sass's party. I manage our money (being an accountant and all) and Jay is really cool with my occasional fits of shopping, but this might permanently shake his faith in my fiscal responsibility.
My
faith would be shaken in myself.
Two and a half hours after I skipped into the party superstore, I slunk out with a small bag of items that were final sale and couldn't be refunded, a chastened and solemn shopper. With dried sweat and shame clogging my pores, it was definitely time for a bubble bath. I'll deal with the party tomorrow.